Home Contact Us Website Articles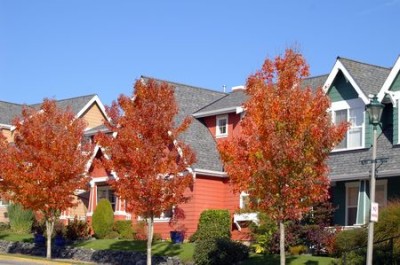 How to get your custom home ready for winter
One of the perks of being a custom home builder in the Salt Lake area is seeing our products in all seasons of the year, and fall can be spectacular in this part of Utah.
You may be enjoying the cooler weather and vibrant colors, but a custom home builder knows the changing season is a sign that you need to be preparing for winter. Winter in North Salt Lake Utah can bring heavy snowfalls that can cause damage to your home and property if you're not prepared. Here are a few tips from your favorite custom home builder on getting your home ready for the cold months ahead.
Outdoors
Clean your gutters and downspouts. Fall leaves can be beautiful, but they can accumulate in your gutters, eaves troughs and downspouts, clogging them. This can lead to ice jams and leaks.
Divert water away from the house. Add extensions to your downspouts to carry water 3 to 4 feet from the foundation.
Have an expert inspect your energy use. While this custom home builder makes sure to use optimal insulation, if your roof is poorly insulated, escaping heat will melt the snow on your roof. This can also lead to ice dams and cold water leaking into your house.
Inspect your roof for damaged, loose or missing shingles, especially after heavy storms. These that can also lead to leaks. Don't forget to check flashing around vent stacks and chimneys while you're at it.
Aerate your lawn. You can do this in the spring or fall. It helps water, air and nutrients penetrate the soil and the roots of your plants and lawn.
Clear out annuals from your garden. Cover the soil with mulch for the winter.
Call a tree surgeon or arborist to look for any damaged trees or branches that could collapse under a heavy snowfall or severe ice storm and damage your house.
Instead of raking leaves, mulch them with a mulching lawn mower. This turns each leaf into tiny smithereens, which provide important nutrients to the soil and lawn.
As a custom home builder, we've seen examples of outdoor pipes bursting in winter. To avoid this, turn off external faucets from the valve inside the house (usually near the basement ceiling where the pipe goes through the foundation). Then open the tap on the outside of the house to drain any remaining water.
Drain your lawn irrigation system, if you have one.
After the last mowing of the year, drain the gas tank or fill it and add gasoline stabilizer so you can use your lawn mower again next spring.
Have your snow-blower maintained. Change the oil, check the spark and points, etc.
Stock up on cold-weather supplies like road salt or ice melter. Make sure your snow shovels are still in working condition. You don't want to wait for the first big snowfall to find out you have no way of digging out.
Indoors
Order or cut enough firewood. Whether you heat with wood or just have an ornamental fireplace, now is the time to stock up on wood.
Check doors and windows for leaks, broken or eroded seals and weather stripping. Replace and damaged or flaking caulk. Replace worn weather stripping around doors and windows.
As a custom home builder, we pride ourselves on building in a sustainable way, and this includes optimal insulation and durable seals and caulking. But if you have an older home, consider adding insulation.
Have your chimney swept. You should do this every year if you use your fireplace regularly. At the same time, the chimney sweep can inspect for any damage.
Have your furnace inspected and cleaned. This will make your heating system more efficient, saving you money, and also help catch any little issues before they become big problems during a cold snap!
Reverse ceiling fans. If your ceiling fans have a reverse switch, you can switch the direction of the air flow so that it pushes warm air down from the ceiling.
Test your sump pump. Pour several gallons of water into it, slowly, to ensure it works the way you want it do.
Come to us for your custom home needs
Whether you love winter or hate it, it's coming. Take steps now to make sure you're not out in the cold. To find out more about how to make your home ready for winter — no matter who built it — visit your
custom home builder in North Salt Lake Utah
.