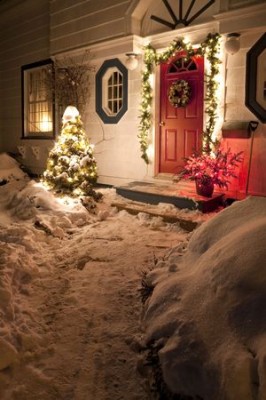 Protecting your valuable real estate from holiday accidents
Real estate is so much more than a building on a piece of land. One thing that makes real estate in Bountiful Utah so appealing is the way that Utahns decorate, especially for the holidays. Because the holidays come at the darkest time of the year, many traditions and cultures feature light.
Owners of Utah real estate like to string lights inside and outside their homes and businesses, but there are safe ways to do it. To ensure safety when putting up strings of lights, start by choosing the right types of lights. When you buy holiday lights, make sure that they have the UL logo, certifying that they meet important minimum safety standards. Choose LED lights rather than old-fashioned incandescent lights. They produce less waste heat, so there's less risk of fire or overheating. You'll also save a lot of money on energy. What's more, the outer lenses for LEDs are made of polymer, rather than glass, so there's less chance of breaking them and cutting yourself on jagged glass. They really spice up your real estate investment.
Light your real estate safely for the holidays
Use lights UL-rated for indoor use indoors, and outdoor-rated lights to string across your real estate.
Before you put them up, plug the string to check that all the bulbs are working.
Check for any breaks or worn spots on the insulation on the cords.
Replace any burned-out bulbs with replacements the manufacturer recommends.
Never remove the third, round prong on the plug. This is the grounding pin, which prevents shock in the case of electrical overload or other problem.
Limit the number of strings plugged into one electrical outlet, or string end-to-end, to three. Using more can overload your electrical circuits, risking power outage, overheating and fire.
Don't use nails or staples to attach strings of lights to walls or eaves. They can cut through the insulation, creating a fire hazard. Use UL-approved clips.
Plug outdoor lights into ground fault circuit interrupters (GCFI). These are electrical sockets with a circuit breaker to shut off current if there is a short or the cord overheats.
Never run the cords across driveways or walkways, or anywhere they can get wet.
Don't run electrical cords or extensions across or through doorways, hallways or where anyone might trip over them.
Don't run cords under carpets where they can overheat.
Safe use
Never lay any cloth or other material over a light bulb
Avoid candles in the house for the holidays. Choose artificial electric candles instead of real ones. Never put a lit candles near the tree, boughs or other plants.
Extinguish all candles before going to bed at night or leaving your home.
Turn off all indoor and outdoor lights before you go to bed at night or leave your home. If you're not around, you can't see when something goes wrong.
Keep bubble lights away from children — the fluid inside can irritate the skin if the bulb breaks.
Take outdoor lights down after the holidays. The longer they stay up, the more damage they'll suffer from the weather or animals that chew on insulation.
Store lights safely. Tangled strings can cause damaged cords and broken sockets. Coil the cords loosely around a piece of cardboard, and wrap the bundle in paper, cloth or bubble wrap to protect the bulbs.
Ensure safe holidays
Some common-sense precautions can make sure you and your family stay safe, while making your piece of
real estate in Bountiful Utah
the envy of the block.